Come Up Winch Seal GEN2 16.5S Winch 12V
Brand - Ateco Equipment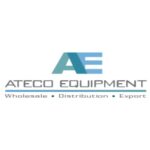 Come Up Winch Seal GEN2 16.5S Winch 12V with 16,500lbs of pulling power, the Come Up Seal Gen 2 16.5s winch is a great option for light trucks and American pick ups such as the Ram and Silverado's which have become increasingly popular on the Australian market.
12V DC severe duty winch rated at 16,500lbs capacity.
Heavy duty series wound motor equipped with thermal switch.
4 equally positioned pin holes with an ergonomic T-handle makes it possible to reposition the gearbox in 90 degree increments.
Water-proof remote control with thermometric LED indicator w/5 m cord
A 12 strand construction synthetic rope coated to improve abrasion and has no water absorption.
Tough aluminum die cast housings withstand strength of 2.0 x rated load of the winch.
Patented mechanical cone brake external to the drum expedites heat dispersion and also makes the winch ideal for use with synthetic rope.
Meets international standards of CE Machinery Directive 2006/42/EC, CE Electromagnetic Compatibility Directive 2014/30/EU, and SAE J706 Surface Vehicle standard 2003-08 rev.
SPECIFICATIONS
Part number: SEAL-16.5-S-295635
Rated line pull: 7,484 kg / 16,500 lb single line
Motor: 4,325 w / 5.8 hp 12V series wound
Remote Control: Waterproof remote with thermometric indicator LED with 5M (17") cord
Geartrain: 3-Stage planetary 343:1
Clutch (freespooling): Rotating ring gear
Brake: Automatic, full load CBS (Cone Brake Structure)
Drum diameter/Length: 89 mm x 204L mm (3.5″ x 8″L)
Shipping weight: 60.8 kg / 134 lb
Net product weight: 48 kg / 106 lb
Rope: 12.7 mm x 25 m (1/2" x 82') Synthetic Rope
Fairlead: Hawse
Winch Construction: Aluminium die cast housings with steel drum
Additional information
| | |
| --- | --- |
| Weight | 60.8 kg |
| Dimensions | 80 × 20 × 20 cm |